Pourquoi choisir le bac+4/5 communication et stratégie média ?
Le·La Manager de la Communication doit savoir évoluer entre les axes stratégiques définis et les moyens (médias d'activation) pour optimiser la visibilité de sa campagne. Pour cela, il faudra établir une copy-strategy et un récit de marque ainsi qu'un planning de diffusion comprenant le choix d'espaces publicitaires pertinents pour servir la communication de la marque. Ce programme généraliste permet à de futur·e·s diplômé·e·s d'acquérir les compétences spécifiques de la conception au pilotage de campagnes de communication et de publicité, a fortiori dans un contexte qui expérimente en continu de nouveaux formats et invite à penser des synergies entre les médias traditionnels et numériques.
Accessible to people with disabilities. Read more about it.
quels sont Les cours en bac+4/5 communication et stratégie média ?
principaux cours
1st year (Bac+4)
Marketing fundamentals
Communication strategy
Digital strategy and web marketing
Brand content and content strategy
Corporate, internal and HR communication
Loyalty and relationship marketing
Brand identity and strategy
Panorama and audience planning
Strategic planning and user intelligence
360° editorial design
Content factory
Public relations and event communication
Agency and advertiser relations
2nd year (Bac+5)
Audit and communication ecosystem
Commitments and corporate values
Social media strategy and influencer marketing
Branding and branding management
Inbound marketing
Performance and campaign management
Objectifs, compétences et aptitudes

> Analyze and understand the context and specificities of the advertiser's market
Know how to anticipate changes and identify the behaviors and uses of a brand's audience as well as trends in order to adapt the communication strategy. Define and manage the brand strategy. Learn how to set up an active watch in order to deploy and optimize the advertiser's marketing strategy on a continuous basis.
> Develop and manage the brand's marketing strategy
Be able to build the advertising communication strategy and implement the marketing mix levers for the brand. Students learn to defend a relevant positioning strategy, in line with the expectations of the company and its targets.
> Design and implement the brand's communication strategy
Be able to deploy the omnichannel communication strategy through offline and digital levers in paid, owned and earned media in order to acquire and retain the brand's audience. Develop and manage the communication strategy for the brand.
> Manage the performance of communication actions
Acquire the attitude and skills necessary to lead and manage teams in the operational implementation of marketing and advertising actions. Know how to define, monitor and present performance evaluation criteria (KPI) in order to measure the effectiveness of the implemented communication strategy.
> Conducting the advertising communication strategy and its various campaigns
Be able to optimize the visibility of a campaign by taking into account the different formats and media selected. Know and apply the fundamentals of copy-strategy and brand storytelling. Control the broadcasting schedule and ensure the relevance of the choices in terms of media and supports with the objective of serving the brand's communication. Learn to manage a department or a service and lead teams.
Plus pédagogiques et évaluations
The validation of the year is done by obtaining 120 ECTS by different evaluation methods (case study, simulation, questionnaire ….). Time in the company is also required (80 working days minimum).
Competitions :
It is a professional situation. For two weeks, our students work on a real client brief presented by the agency and/or advertiser to respond to a strategic, marketing or creative issue. This transversal work is carried out collectively with a distribution of expectations according to skills, in the form of an agency proposal.
Big talk:
It takes place at the end of the year and is presented before a jury of professionals. Five themes composed of fifteen
articles are offered to students, a way to continue to monitor new trends in the field.
communication and marketing.
The professional project: Create your own start-up
The students form mixed project groups between the different specialties in order to carry out this common thread. You will have one year to acquire the entrepreneurial knowledge necessary to create your own fictitious start-up. Those who wish to do so, will have the possibility to join the Omnes Education incubator to be accompanied in order to really deploy their concept.
You want to know more
on this program?
Sign up for an open house!
Our students and professors welcome you in the school to answer all your questions.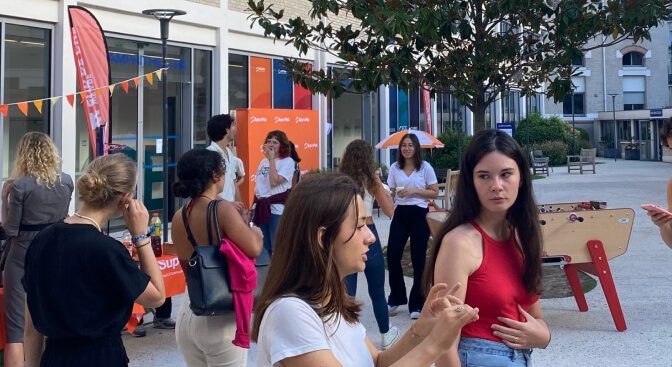 Our added value

Quality speakers
The courses are all led by professionals from the communication, marketing or business sectors.
creation. The pedagogy allows the application of knowledge.

Professional accompaniment
The company service helps students find their internship (full-time or alternating). They also benefit from personalized support with CV and cover letter coaching.

Immersion
The program focuses on immersive situations and innovative formats that punctuate the year (conferences, visits, bootcamp, hackathon).
QUELLES SONT LES CONDITIONS D'ADMISSION
EN BAC+4/5 communication et stratégie média ?
Justifier d'un Bac+3 validé (180 ECTS) ou, pour une admission parallèle, d'un Bac+4 (240 ECTS), d'une certification de niveau 6 ou équivalent, prioritairement dans les domaines de la Communication, de la Publicité, ou du Marketing et de satisfaire aux épreuves de sélection de l'établissement (ou équivalent s'il s'agit d'un·e candidat·e étranger)
Quelle certification est délivrée
en Bac+4/5 communication et stratégie média ?
Ce programme délivre la certification RNCP de niveau 7 "Manager de la Communication de Marque" certifiée par l'Etat (en cours d'instruction)
Bloc de compétences de la certification:
Bloc 1 – RÉALISER UN DIAGNOSTIC DE LA MARQUE ET SA COMMUNICATION
Bloc 2 – DÉFINIR LA MARQUE ET SA STRATÉGIE DE COMMUNICATION
Bloc 3 – METTRE EN ŒUVRE LA STRATÉGIE DE COMMUNICATION DE MARQUE
Bloc 4 – MESURER ET OPTIMISER LA PERFORMANCE DE LA STRATÉGIE DE COMMUNICATION DE MARQUE
Bloc 5 – PILOTER LA STRATÉGIE PUBLICITAIRE ET MEDIA
Quels sont les frais de scolarité
en Bac+4/5 communication et stratégie média ?
Lyon and Bordeaux campuses: €21,100
(For one-year contracts in Bac+5: 10 800€)
Paris campus: 21 450€.
(For one-year contracts in Bac+5: 10 950€)
Quels sont les Rentrées et rythmes
en Bac+4/5 communication et stratégie média ?
Back to school in September
Pace:
1 week of classes and 3 weeks in a company
for 24 months starting in September.
Beginning of the school year in February (only in Paris)
Pace:
1 week of classes and 3 weeks in a company
for 18 months starting in February.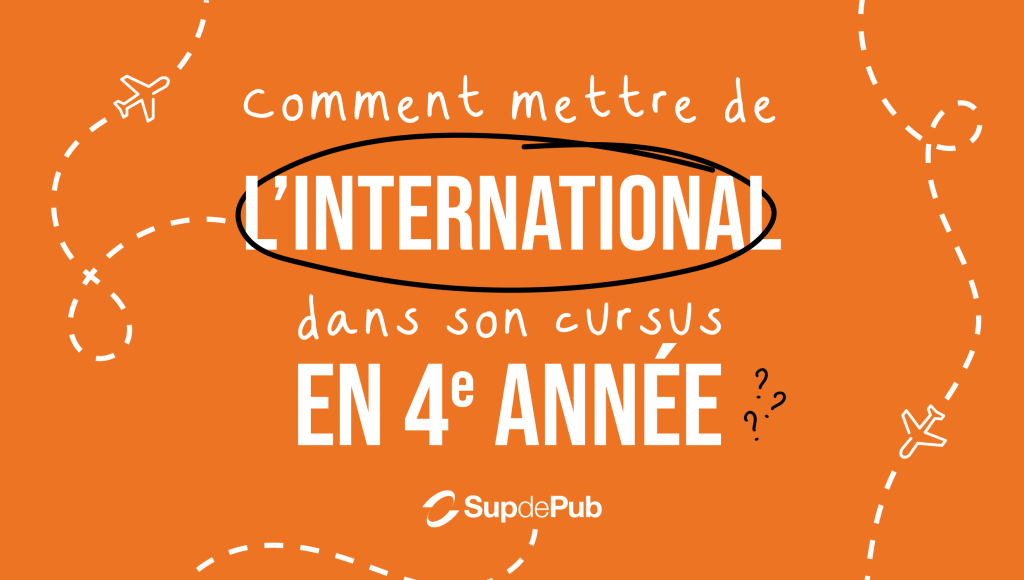 You want to know more
on this program?
Sign up for an open house!
Our students and professors welcome you in the school to answer all your questions.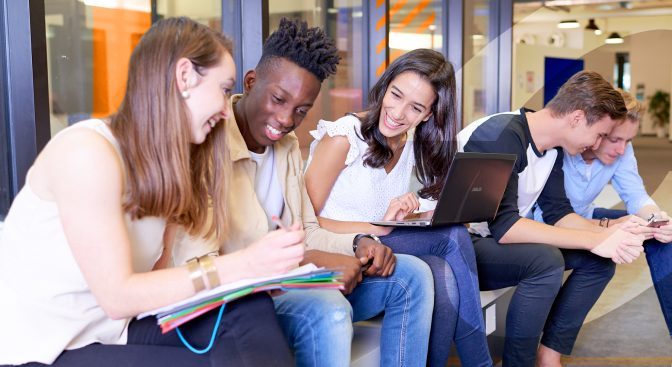 Les chiffres clés
84%
Taux d'insertion professionnelle
39
élèves par groupe au maximum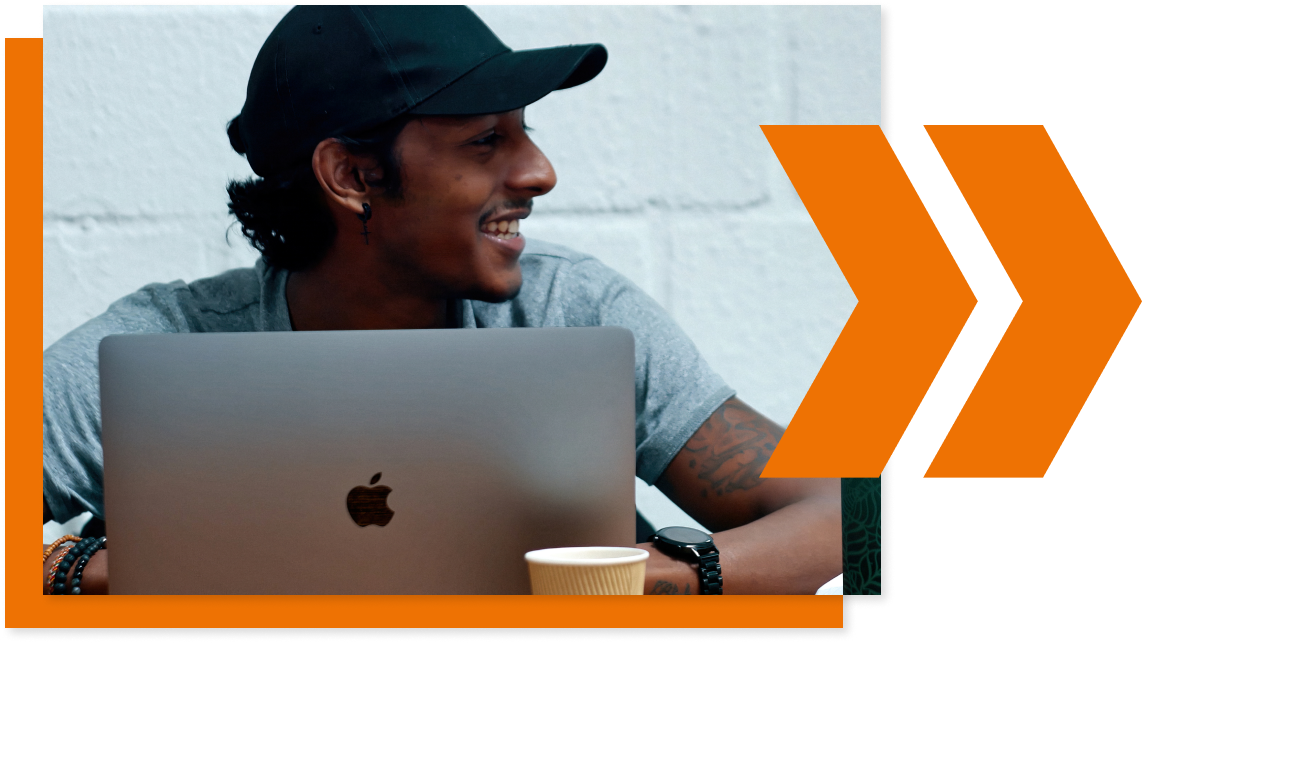 Trades and
career opportunities
Responsable de la marque
Responsable de la communication RSE
Responsable de la communication
Directeur de la communication

Indicative starting salary: 26-33k€.
Updated 22 June 2023